Granite Design of Midwest
Granite Design of Midwest is a leading fabricator of kitchen and bathroom countertops, specializing in fabrication and installation of granite, marble, limestone and quartz materials. Our goal is to provide the highest quality countertops at the best price, focusing on client's needs.
From the initial measurement to final installation, our team tries to achieve our goal by carefully listening to our customers, offering the best craftsmanship and delivering the final product in a timely, courteous and thorough manner.
Granite Installation Process
Call to schedule an appointment or send us a layout of your cabinets. We will provide you with an estimate price that will include all necessary measurements, material cost, fabrication and installation. We will make any necessary price adjustments if anything changes.
Choose the material and color (visit warehouses to pick the actual slabs)
Choose the edge profile
Pick a sink, faucet, cooktop, etc. (dimension of your sink and every new appliance must be known prior to installing the countertop)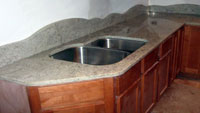 The standard height of a backsplash is 4 inches but they can be made higher. A tall backsplash is sometimes used behind the kitchen range or sinks to protect the wall from grease and other stains. Some customers choose a full backsplash. The full backsplash is always installed after the countertops to ensure a good fit.
After all selection has been made, we will go back to make a final template. All cabinets must be completely installed before the final template can be made. We take your sink with us which we bring back at the day of installation. All questions are answered at this time. It usually takes 1.5 weeks from the time we measure to the installation day.
The material for the countertop is purchased and professionally cut to size and polished along with the edge design. We then schedule an installation day.
All countertop installations are done by professional installers. We install the countertops, mount the sink to the counter, drill the hole(s) for the faucet on site (please make sure you have a faucet at the day of installation), drill the hole for a cooktop on site (if you have one) and seal the granite/marble/limestone as a final step.<br />In a case of exchanging the countertops, old tops must be removed before the installation (we offer removing and disposal of old tops at an additional charge).
Our installers do not disconnect, reconnect or install appliances or plumbing fixtures. After the installation of new countertops, the plumber hooks up the sink, faucet, dishwasher, etc. If you don't have a plumber we can recommend one.
We offer a 2-year warranty on the installation of your countertops. Please call for details.